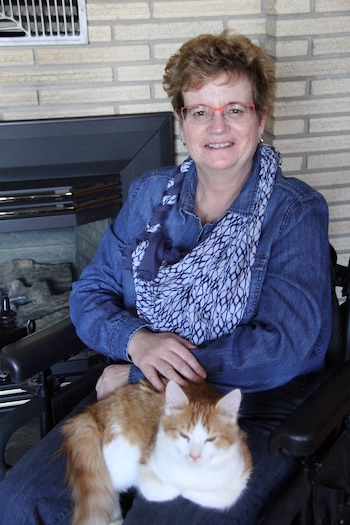 It took nine years of travelling back and forth to Ottawa for MRI scans before Johanne Ménard finally received a diagnosis of multiple sclerosis (MS) and Lupus. "Stress" is the word she uses most to describe the ordeal.
She had to be there half an hour in advance of the appointment time, which could be any time of day from 5 a.m. to 9 p.m. Rush hour traffic had to be taken into account as well as weather conditions, which sometimes meant going the night before in case of a snowstorm. Missing an appointment was not an option, since there was a six-month waiting list to get in.
And then there was the financial burden: gas, parking, meals, wear and tear on a vehicle, and having someone with her for comfort during the tests.
Johanne also knows the value of receiving care closer to home, having had surgeries at HGH, minutes from her home. Her experience was great. "I was treated with respect and I never felt like a number."
This is what inspired her to join the HGH Foundation Board.
"I offered my help as a way to tell them thank you. I was so satisfied with everything they did for me. Even when I was scared, I was very confident. We are very lucky to have a good hospital here."
For Johanne, new imaging equipment is a big plus – for patients, for the hospital and physicians, and for the community. "As a patient, having the equipment in Hawkesbury will change my life – it will be a relief. Travelling to have tests is awful and being sick is already stressful enough. It will be so good for all patients. It is not a luxury to have these machines at HGH – it is a must to serve our community." – Johanne Ménard
We're always happy to hear about the people and the community we serve. To share your story, please contact us.