We sincerely thank all participants, sponsors, volunteers and golf clubs for their support in the 2021 Golf for the HGH Foundation!
The event held from September 24 to September 30, 2021 was a great success and helped raise close to $25,000 for our regional hospital! Winners of competitions and draws are listed below.
Event Details
Dates: Friday, September 24, 2021 to Thursday, September 30, 2021
Participating golf clubs:
Competitions and draws
Winners of competitions
Top Foursome

Gift certificate for a foursome with carts and lunch at Whitlock Golf and Country Club
Winners: André W., Brian W., Patrick C., Roger L.

R. Cadieux Construction Inc.'s Top Female Golfer Competition

Personalized rain kit
Winner: Guylain T.

Foam Geometrix's Top Male Golfer Competition

Personalized rain kit
Winner: Simon L.
Winners of participation draws and prizes
Random draws for all event participants
HGH Medical Staff Association's $1,000 Draw – Francine A.
2 Sony SRS-XB10 portable wireless speakers from Stéréo + – Philippe P., Peter M.
4 tickets for the 2021-2022 ski season from Mont Rigaud – Jordan R.
$100 gift certificate to Déjà Vu (from a donor) – Serge C.
2 $50 gift certificates from Markor Jewellers – Manon L. and Suzanne C.
1 gift basket from Jade Garden – Chantal P.
1 backpack from Pink Bow Tie – Sophie M.
3 pairs of tickets from Ouimet Farms – Denis J., Maxime D.A., Richard L.
Shelter and chair from Rona-Groupe Matériaux Godin L'Orignal – Gilles M.
$100 gift certificate from Le Chenail – Odette B.
$50 gift certificate  Stephanie's Restaurant – Jami J.
Custom poncho hoodie towel and $100 gift certificate from CSURF – Anne-Marie M.
$50 gift certificate from Tchin Tchin – Marc B.
Gift certificate for golf game for two, including cart from Fairmont Château Montebello – Ginette L.
Outdoor fireplace from Hawkesbury Lumber/Home Hardware – Luc L.
Gift certificate for an interior golf game (for 2) from Le Golf Club – Paul G.
Gift basket from Garden Path – Diane T.
2 gift bags from Hawkesbury Shoppers Drug Mart – Lise Anne B., John C.
Gift certificate for a 50-minute tanning session from Magic Tan Hawkesbury – Corinne A.
$100 gift certificate from Les serres Legault – Réjean and Rachelle F.
2 $50 gift cards from Fromagerie St-Albert Cheese – Gail H., Hugues L.
$100 gift certificate from Rose Spa esthéthique – Sophie D.
Gift certificate for foursome from La Cité Golf Club – Luc R.
2 $50 gift certificates to SAQ from Hélène Boucher and Gaetano Rossi – Denis P., Olivier C.
2 oil changes and 1 anti-rust treatment from Jiffy Hawkesbury – Joshua L., André G., John P.
Small angle grinder from Wathier Welding Products – Jean H.
Random draws for event participants at each of the participating golf clubs
$500 gift certificate from VIA Rail Canada – Denis R., Marc D., Daniel P., Will F., Charles-André L., Carlo C.
Gift certificate for anti-rust Krown treatment from Pierre Perreault Garage/Krown Hawkesbury – John C., Jean L., Tristan L., Odette B.
$100 Gift certificate for interior golf game for two from Le Golf Club – Muguette L.
$100 gift certificate to Golf Town from Les Architectes Hypothécaires – Nic P.
Random draw for event participants who also participate in the Facebook contest
Post a public photo of you golfing during the week of the event and include hashtags: #golfforthehghfoundation and #hghfoundation
to get a chance to win :
2 tickets for the brand new Piano Man 2 show, on October 30 at the Zénith de St-Eustache. Courtesy of Manon Séguin and Christian Marc Gendron. Winner is Beth A.
---
There's No Place Like Home
Profits from this event will be directed towards the HGH Foundation's current campaign, There's No Place Like Home, which will support new programs and continue to help expand services at HGH. It will enable access to more specialty care, closer to home. The current focus is to enhance services in orthopedic surgery, urology, ophthalmology, endoscopy, and advanced mammography, which reflects the most pressing and increasing needs of our local population.
For more information on this campaign, please visit the page There's No Place Like Home.
---
Our Partners
Ace Partners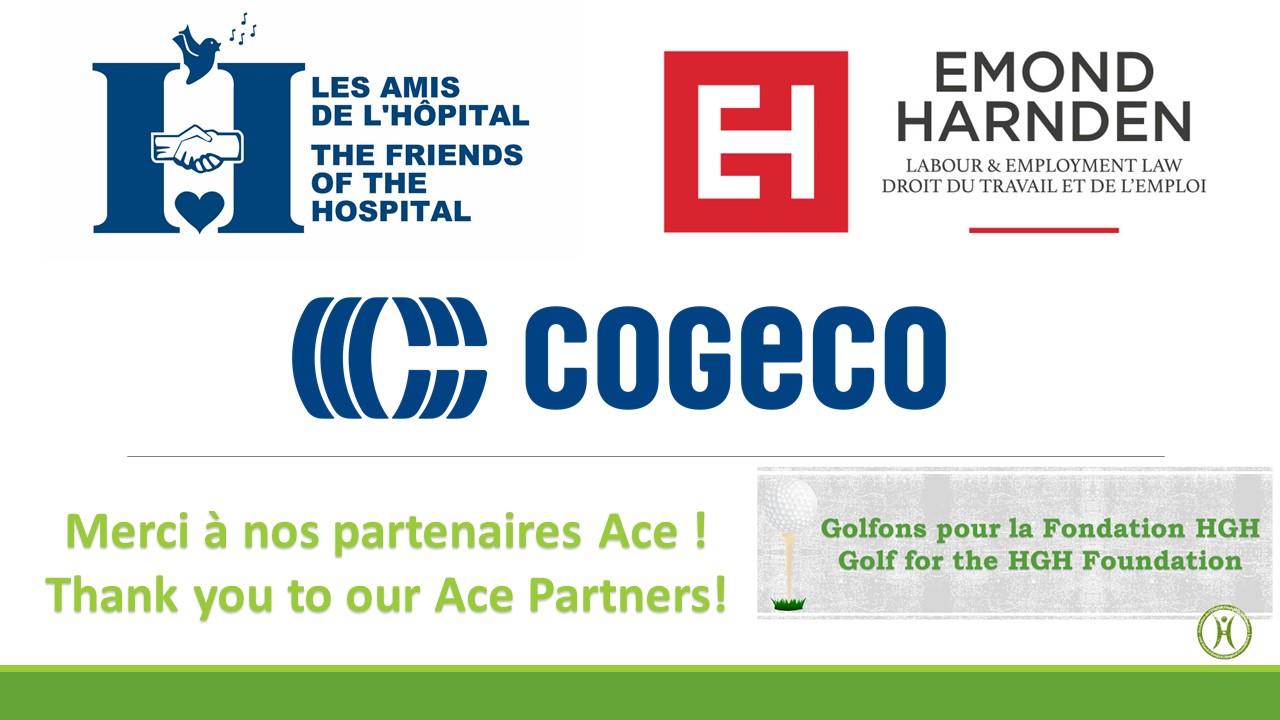 Eagle Partners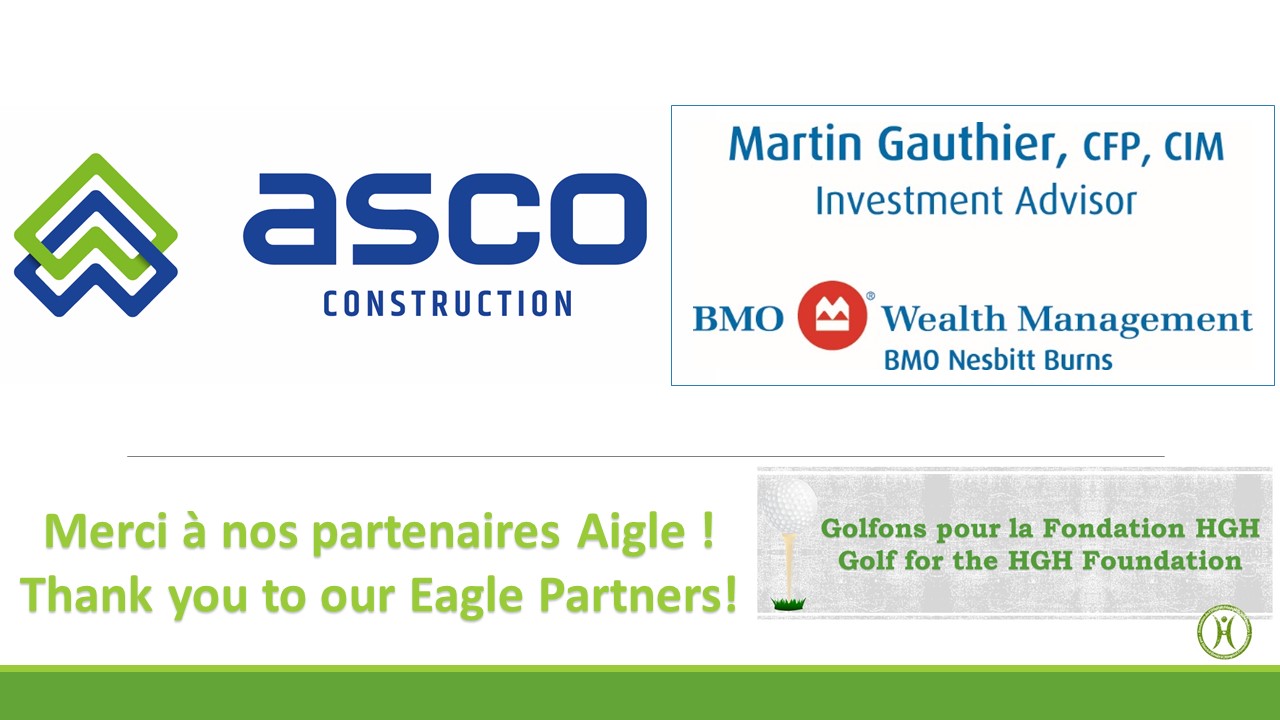 Bogey Partners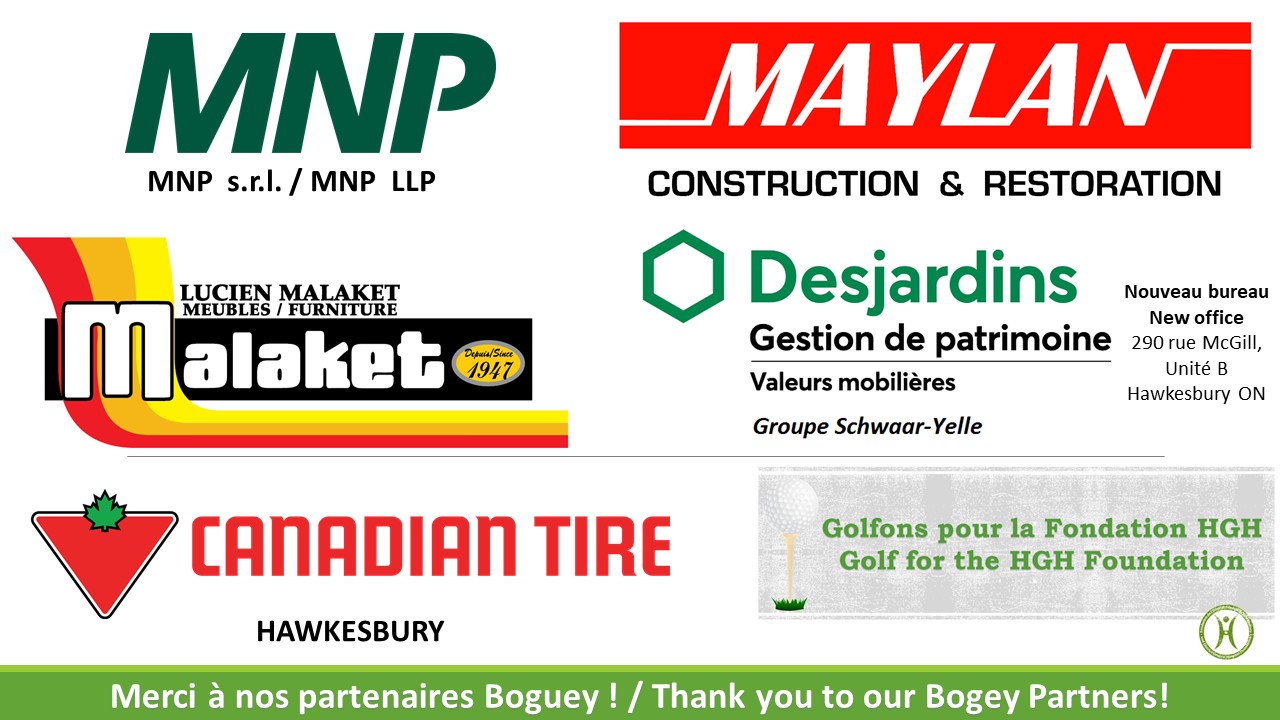 Prize Partners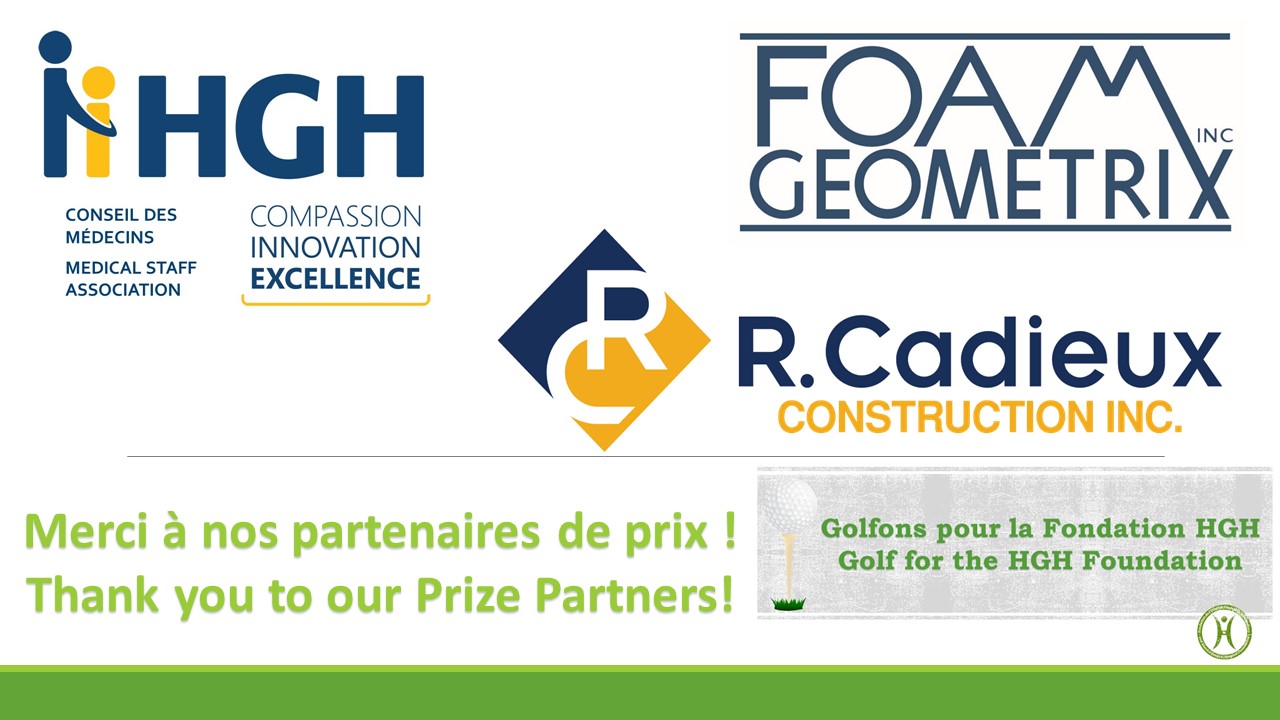 ---
For more information
Christine Gray St-Denis
Telephone: 613-632-1111, extension 21108 or send her an email
On behalf of the HGH Foundation, we thank you for your generosity and sincerely hope you will join us for this event!
We also hope to welcome you at the 40th Golf Classic in 2022!
---
The HGH Foundation hosts several fundraising events throughout the year. For more information, please visit Events.