2017 HGH Foundation Radiotelethon
On October 15th, join us and our partners Cogeco TV Cable 11 and The Jewel 107.7 for the 11th edition of the HGH Radiotelethon. Enjoy a full day of fantastic entertainment with our hosts Manon Séguin and Bobby Lalonde! Help support a great cause as all proceeds of the Radiotelethon will benefit the Access 2018 Campaign.  
The HGH Foundation Radiotelethon's objective is to raise $300,000 to help our hospital acquire two pieces of state-of-the-art equipment: a new CT scanner and an MRI (magnetic resonance imaging) machine.
The Radiotelethon will be broadcast live on Hawkesbury TV Cogeco Cable 11 and online.
Event details
Date: Sunday, October 15, 2017
Time: 11 am to 8 pm
Location: Robert Hartley Sports Complex
425 Cartier Boulevard, Hawkesbury, ON
Please donate generously
You may bring your donation in person and enjoy the live entertainment. You may also donate online or call during the Radiotelethon hours at 1-844-888-3444.
On behalf of the HGH Foundation, we thank you for your generosity and sincerely hope you will join us for the Radiotelethon!
Artist lineup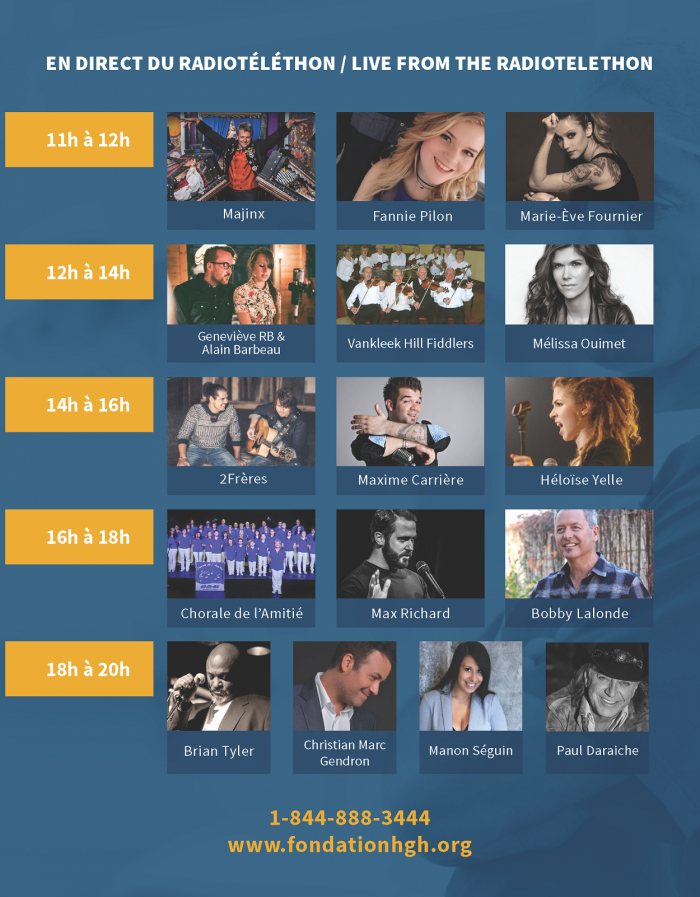 Radiotelethon partners
We sincerely thank our partners for their generous contribution.

---
Information
Erin Tabakman
613-632-1111, extension 21102
etabakman@hgh.ca
HGH Foundation hosts several fundraising events throughout the year. For more information, please visit Events.
Do you wish to help the HGH Foundation and your community? Join our great group of volunteers.