McHappy Day 2022 Supports Children at HGH
Many thanks to Mr. Louis Giguère and his staff of the McDonald's restaurant in Hawkesbury, and the community for their support during McHappy Day 2022, which raised over $3,300 for the HGH Foundation!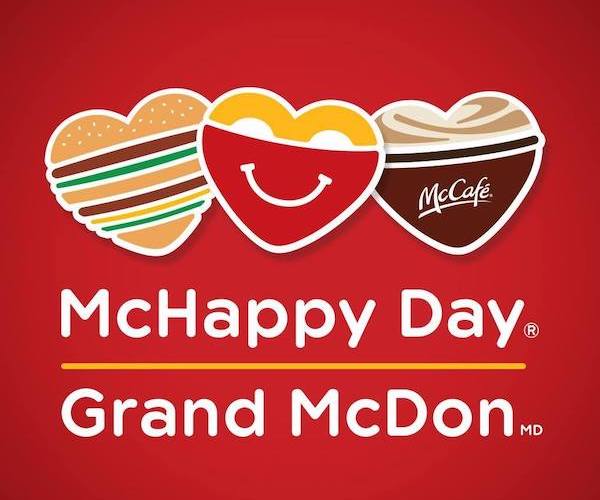 The Hawkesbury and District General Hospital (HGH) Foundation is very grateful to be the beneficiary of this year's McHappy Day proceeds from the McDonald's franchise of Hawkesbury. Thank you to Mr. Louis Giguère, the franchise owner of this restaurant, for his generosity and long-time support of the HGH Foundation.
This year, McHappy Day will be held on Wednesday, May 11th. An annual Canadian tradition since 1977, McHappy Day was created to raise money for the Ronald McDonald House and in support of local charities that help children in need.
On this day, you will be able to support the HGH Foundation by making a donation or buying McDonald's socks at the restaurant. A portion of all menu purchases that day will also be donated to the HGH Foundation.
We are proud to be associated with the Hawkesbury and District General Hospital Foundation. Since our motto is to help sick children, we are pleased to support the Children Rehabilitation Program of Eastern Ontario. We hope to see many of you! – Lyne Monette, Human Resources Manager, McDonald's
This year's proceeds will support the Children Rehabilitation Program of Eastern Ontario. This program at HGH helps children regain their mobility, strength and flexibility, or it helps them adapt to their condition following an accident or illness. The program also helps children living with a developmental delay or other condition; improve their coordination and their communication so they can reach their full potential. The program professionals provide assessment services and therapeutic follow-ups for patients.
The Children Rehabilitation Program of Eastern Ontario would like to sincerely thank all those involved with McHappy Day for their generous contribution. Your generosity will help us purchase therapy materials, standardized assessments manuals, and obtain technological equipment in order to be able to continue to offer quality services for our clients. We are all very grateful and we thank you from the bottom of our hearts. – Carolyne Dion, Speech-Language Pathologist and clinic LEAD, HGH
The proceeds from McHappy Day will contribute to the purchase of important equipment and tools for all the therapists to use at the program's clinic. These vary between strengthening games, standardized tests to be able to assess children, equipment to be able to model interventions in physiotherapy, materials to complete oro-myo-functional assessments with children, iPads to have access to applications and online assessment tools, as well as speech therapy materials. The program also hopes to be able to add visual paths in the hallways and tactile activities to occupy the children in the waiting room.
The HGH Foundation invites you to stop by the restaurant on May 11th to help them raise the funds needed for this important equipment for children in our region. Your generosity can help make a difference in the lives of these children. The Foundation is also very grateful to Mr. Giguère and the staff of the McDonald's franchise in Hawkesbury for all of their support.
The HGH Foundation is so grateful to the Hawkesbury McDonald's Restaurant and to our community who support McHappy Day each and every year. Your generous donations continue to ensure that children in our community flourish by having access to the very best resources through the Children Rehabilitation Program of Eastern Ontario. Thank you for your amazing support of such an important program!  – Erin Tabakman, Executive Director, HGH Foundation