HGH Foundation 5th Red Carpet Evening
On May 28th, travel back in time to Paris' Belle Époque and its famous Moulin Rouge!
The Red Carpet Evening is an annual fundraiser for Hawkesbury & District General Hospital Foundation.
Join our guest of honour, former MPP and recipient of the Order of Canada, Jean-Marc Lalonde for an evening of Cabaret style entertainment and a tantalizing 5-course dinner, prepared by La Cuisine Volante.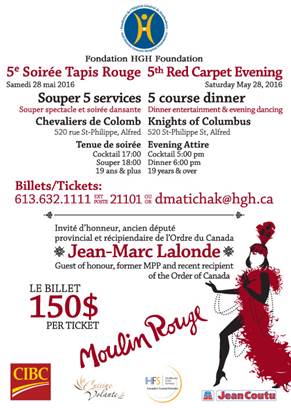 Event details
Saturday May 28, 2016 at 5:00 pm
Knights of Columbus Hall
520 St Philippe Street, Alfred, Ontario
Profits from this event will be allocated to our Access 2018 campaign and the purchase of an MRI and CT-Scan machine.
Tickets
Tickets are $150 per person. The number of tickets is limited. Don't be disappointed, buy your tickets today!
Drop by our office to get your tickets or purchase them on-line.
RSVP would be greatly appreciated prior to Friday May 20th.
Ticket holders must be 19+.
Dress Code
Evening Attire
Information
For further information, please contact Diane at 613-632-1111, extension 21101.
Our office is located at 101-175 Main Street West in Hawkesbury.
On behalf of the HGH Foundation, we thank you for your generosity and sincerely hope you will join us for an evening of Paris nightlife!
HGH Foundation hosts several fundraising events throughout the year. For more information, please visit Events.