Join me for the Santa Walk & Run!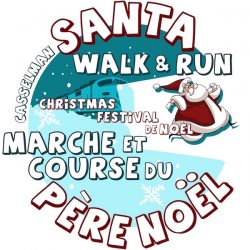 Ho – Ho – Ho! Come join me on Sunday December 2, 2018 in Casselman for the 6th Annual Santa Walk & Run!
The Santa Walk & Run is an annual event that takes place during the Casselman Christmas Festival. This event attracts more than 350 participants who will run or walk distances of 3.5 km, 5 km or 10 km in full Santa Suits. Santa suits are included in the registration fee.
The objective of this annual event is to promote the pleasures of running and walking, as well as its health benefits. Profits from this event will benefit the HGH Mental Health and Addiction Regional Program that includes three satellite offices: Casselman, Clarence-Rockland and Hawkesbury.
Registration to the Casselman Santa Walk & Run
Registration fees depend on the age of the participant and the registration date. Group and family rates are offered. You have two options to register to the Santa Walk & Run.
Register online
Online registration open until November 28th. Register now.
Register during the Christmas Festival in Casselman
Limited registration will be accepted on December 1st and 2nd in Casselman.
For more details, please visit Casselman Christmas Festival.
Volunteer for the Santa Walk & Run
You may also contribute to the HGH Foundation by joining our team of volunteers for the Santa Walk & Run. To register, visit Become a Volunteer.
We wish to extend a huge thank you to our Media Sponsors: CTV and Majic 100.
Information
Diane Matichak
dmatichak@hgh.ca
613-632-1111 extension 21108