Important Notice: As of October 6, 2020, the Hawkesbury COVID-19 Assessment Centre is using an appointment-based testing system and discontinuing walk-in services. To book an appointment, follow guidelines in the FAQs below: What should I know about COVID-19 testing?

Transitioning to appointment-based testing will allow us to conduct enhanced screening in accordance with the province's updated testing guidance. This system will also increase staff and patient safety, and reduce wait times when visiting an assessment centre, preventing people from having to line up outside in the cold for many hours.
COVID-19: What to expect when arriving at HGH?
Due to the pandemic, we have made several changes to our regular processes. Please review the following information to help you prepare for your visit to HGH. We are here to provide expert and compassionate care to keep everyone safe.
The following preventive measures will apply until further notice:
We verbally screen everyone entering the hospital at the Main Entrance and the Emergency Entrance.
Please wear a mask in the hospital. Bring your own, otherwise, we will provide one.
Go directly to the area for your appointment and do not circulate elsewhere in the hospital.
Sit in designated areas of the waiting rooms or in the care room.
Leave immediately following your appointment.
Bring your own water or snack as the cafeteria and vending machines are closed to the public.
Use your credit card tap option (contactless) for paying parking fees at the exit gate.
COVID-19 FAQs
---
What are the symptoms of COVID-19?
COVID-19 symptoms can range from mild to severe. The most common symptoms are:
Fever (37.8°C or greater) and chills
Headaches
Difficulty breathing, shortness of breath or new or worsening respiratory problems
Cough, sneezing, stuffy nose, nasal congestion, runny nose
Sore throat, hoarse voice or difficulty swallowing
Sudden loss of smell or taste
Nausea, vomiting, diarrhea, abdominal pain
Unexplained fatigue, muscle pain, unusual uneasiness
Eye infection (conjunctivitis)
Sudden worsening of a chronic condition
Delirium, confusion
Unexplained or increase in falls
A decrease in blood pressure or abnormally fast heart beat (tachycardia)
---
What should I know about COVID-19 testing?
Can I get tested for COVID-19?
You can get tested if:
You have symptoms, have had close contact with a confirmed case, or are part of an outbreak investigation; or
You do not have symptoms, but you are part of a targeted group at greater risk due to your health condition or employment.
We accept Québec patients who meet the above criteria.
Important Notice: Starting October 6, 2020, testing is by appointment only. Following provincial guidelines, we have discontinued walk-in services for testing in our COVID-19 Assessment Center.
How do I book an appointment for COVID-19 testing in Hawkesbury?
To book an appointment through our online secure portal, you will have to provide the following information: name, address, phone number, email address and Health Card number (Ontario or Québec).
Please go to our Secure Online Connection Portal. Then follow these instructions:
Choose a Specialty (click on the Hawkesbury Covid Assessment button)
Choose a Type of Appointment (click on Covid-19 Assessment)
Choose a time – The system will display available time slots for the next 2 days. Click on the date and time you wish to go for testing.
Confirm and Schedule – the box will indicate your chosen date and time. In the comment box, indicate your symptoms, or simply write Covid testing. You can't leave the box empty to proceed to the next step. Click on the green button Schedule It!
Enter your contact information as required. If you have a MyChart account, you can log in and the form will autofill the fields.
Enter the province for your health insurance (Ontario or Québec), then your health card number.
You will receive an email confirmation after submitting the form.
If you need help with the booking process or do not have internet access, please call 613-632-1111, extension 53800.
Where is the COVID-19 Assessment Center in Hawkesbury?
The COVID-19 Assessment Centre is located at 750 Laurier Street in Hawkesbury.
The centre is open from 9 a.m. to 5 p.m. Monday to Friday for people with appointments only.
For information, please call 613-632-1111, extension 53800.
---
Should I screen my kids before sending them to school or child care?
---
What is the COVID Alert Mobile App?
The app is designed to protect yourself and your community by sending phone alerts to let you know that you may have been exposed to the virus. It also alerts others if you test positive without sharing any personal information.
For more information or to download the app, visit Covid-19 Ontario.
---
What changes are occuring at HGH due to the pandemic?
Since the start of the pandemic, we have been following the Ontario Ministry of Health guidelines and have modified our operations accordingly.
We had to put scheduled surgeries and procedures on hold to make sure we had enough rooms, staff and supplies to treat COVID-19 patients. Although necessary, we recognize that this situation has been difficult and frustrating for patients whose care was postponed.
In early June, we have been authorized to slowly begin to schedule surgeries and procedures again. This ramping up of activities is a coordinated regional effort of all healthcare institutions throughout the Champlain Health Region.
At HGH, work is going on in every department to increase services as safely, fairly, and quickly as possible.
Care decisions will be made on a case-by-case basis, weighing the risk of further delay of treatment.
We need to find a balance between slowly starting scheduled care and continuing to be ready to deal with the COVID-19 pandemic.
---
Do I have to wear a mask in the hospital?
Yes. Every patient and visitor entering HGH must wear a mask.
If you are coming for an appointment in Ambulatory Care, we strongly encourage you to arrive at the hospital wearing your own mask, whether it is store-bought or homemade.
We will provide masks for Emergency, Family Birthing Center and Intensive Care patients.
We screen everyone coming into the hospital through a questionnaire. We will inform you if additional preventive measures are needed in addition to your mask.
For more information on face coverings and masks, please visit the Eastern Ontario Health Unit.
---
How to use a mask during the pandemic?
Please follow guidelines in the image below.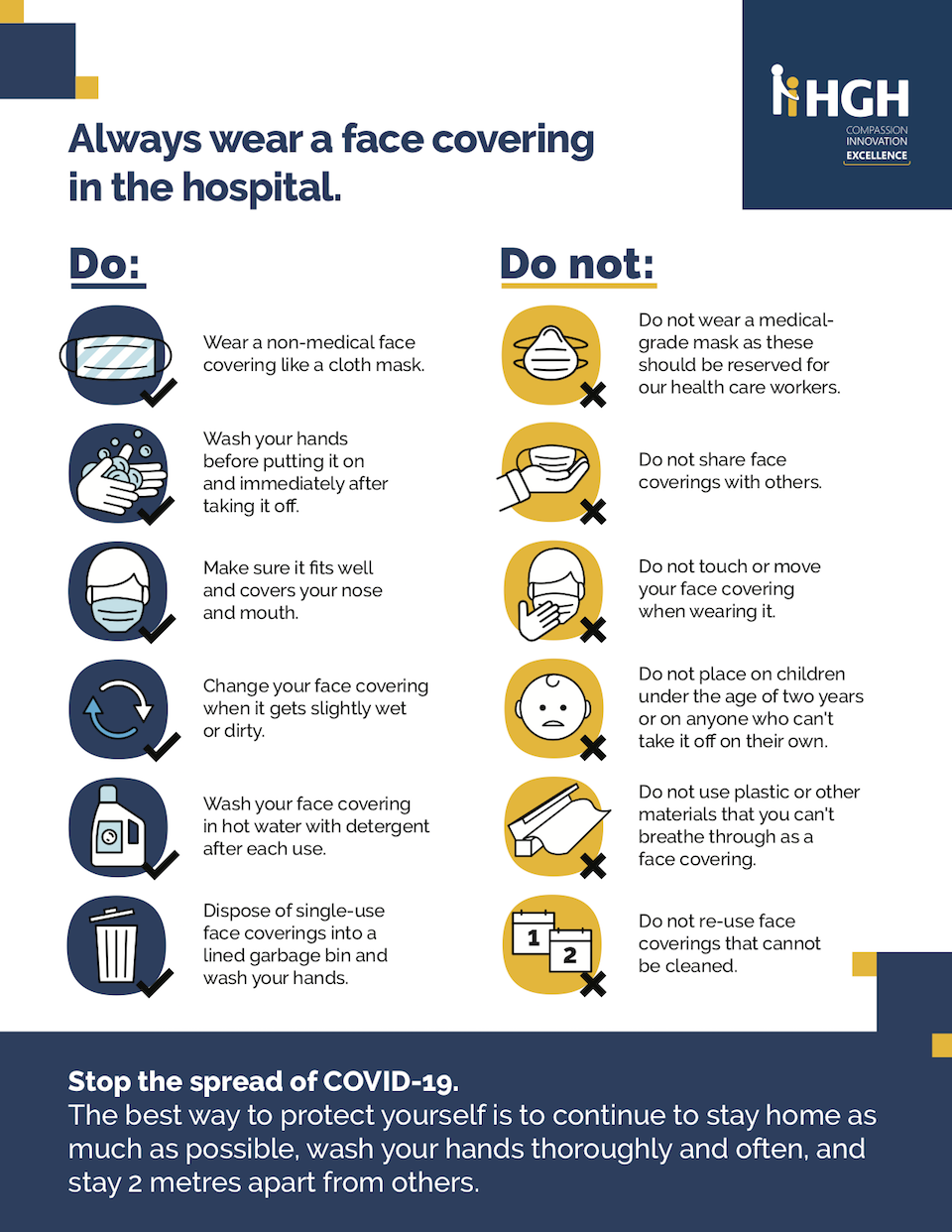 ---
Is the Emergency Department open?
Yes, the Emergency Department remains open 24 hours a day and provides safe care.
We offer the same level of emergency medical care as before.
Do not neglect your health. If you are worried about your condition, please come to the Emergency.
The following preventive measures will apply until further notice:
All persons arriving will be verbally screened through a questionnaire.
You will have to disinfect your hands and wear the provided mask
Patients coming to the Emergency cannot be accompanied.
Only one parent can accompany a sick child (aged under 18) coming to the Emergency for care.
---
I have an appointment at HGH. Can someone accompany me?
If someone is coming with you, they should leave you at the entrance and not enter the hospital, unless you have special needs.
If you have a minor mobility problem, please arrive at least 30 minutes before your scheduled appointment. When you go through screening at the entrance, ask for a porter if you need help to travel within the hospital.
Only one parent can accompany a child under 18 years of age coming to HGH for an appointment.
One support person may accompany a patient that:
Has mobility problems;
Needs help to communicate;
Has complex mental health problems.
---
Can I visit a patient at HGH?
For compassionate reasons, only one informal caregiver or companion can visit a patient at a time.
The care unit manager must approve these essential visits, and decisions are made on a case-by-case basis.
---
Can I deliver personal belongings to a family member hospitalized at HGH?
Yes, you can deliver personal belongings in a bag labelled with the patient's name. Leave the bag at a screening table according to this schedule:
Monday to Friday between 6:45 a.m. and 7 p.m. – at the Main Entrance
Saturdays between 6:45 a.m. and 2 p.m. – at the Main Entrance
Sundays and outside hours indicated above – at the Emergency Entrance
The bag will be delivered to the patient's room within 2 to 3 hours. Porters have a fixed scheduled for these runs.
Please keep drop-offs of personal belongings to a minimum.
HGH is not responsible for personal belongings dropped off at screening tables.
---
Can I bring or have food delivered to the hospital for a patient?
Yes, it is possible. The food must be well packaged and placed in a bag labelled with the patient's name. It must be left at a screening table at the Main Entrance during the following hours only:
Monday to Friday between 6:45 a.m. and 7 p.m.
Saturdays between 6:45 a.m. and 2 p.m.
Deliveries to patients' rooms are made according to porters' fixed schedule and may take a few hours.
Restaurant food orders
Ordering food from a restaurant is strongly discouraged, however, if you must order, food must be prepaid.
The food must be labelled with the patient's name and delivered at the Main Entrance during opening hours only.
Deliveries to patients' rooms are made according to porters' fixed schedule and may take a few hours.
We understand this is a difficult change, but this important precaution is to ensure the safety of everyone.
---
Can I eat or buy food and beverages at HGH?
The cafeteria and vending machines are currently closed to the public.
If possible, avoid eating while at HGH.
However, if you must eat, please respect physical distancing.
Bring your own water bottle, snacks or meals.
---
Can I call a patient at HGH?
Yes, we strongly encourage families to stay in touch with their loved ones during their hospital stay. All patient rooms are equipped with a telephone.
To call a patient, dial 613-632-1111, then 0, and ask for the room number.
You may also communicate with patients through their cellphones and keep in touch with social media such as FaceTime. Free Wi-Fi is available throughout the hospital.
---
What about parking during COVID-19?
Parking is $5.00 without in and out privileges.
Use the tap feature on your credit card for contactless payment to reduce the risk of spreading the virus. Tap is only available at the exit gate pay station.
If you do not have a tap credit card, you can pay with debit or cash at the indoor pay station.
---
Can someone infected with COVID-19 be hospitalized at HGH?
All patients requiring hospitalization at HGH due to COVID-19 will receive all needed care and will be isolated to prevent the spread of the virus. This measure will allow us to safely care for and protect other patients.
---
How can I protect my family's health and myself?
Please follow public health guidelines to protect everyone.
Stay home as much as possible and avoid close contact with others outside of your household.
Practice physical distancing if you must go out. Stay at least two meters away from other people during your outings.
Wash your hands frequently with soap and water, or use hand sanitizer.
If you cough or sneeze, cover your nose and mouth with a tissue or your elbow.
Wear a mask in indoor public places and when maintaining a safe physical distance is challenging.
Follow the recommendations of the Eastern Ontario Health Unit.
---
Where can I find more information on COVID-19?
Public health officials and governments publish regular updates on the number of cases as well as guidelines and preventive measures to follow. To stay informed, please visit the following websites:
---