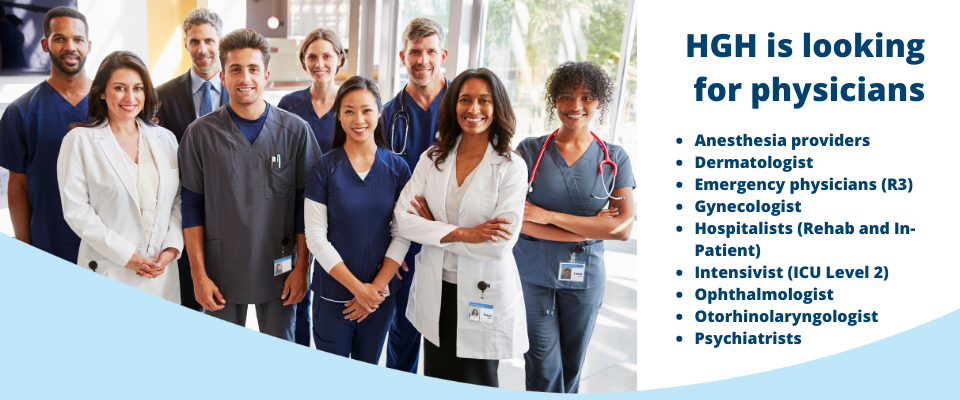 The Hawkesbury and District General Hospital (HGH) is now a full-service regional hospital thanks to a $160 million redevelopment project.
Topics on this page
About HGH
100 beds
160 physicians
750 employees
Electronic medical records through Epic Health Information System Epic
Emergency
17 examination rooms
Ambulatory services
Close to 55,000 visits per year
Surgery
3 operating rooms
Endoscopy unit
5,500 procedures per year
Obstetrics
Family birthing centre with 7 rooms
450 deliveries per year
Diagnostic imaging
Radiology – conventional and specialized
128-slice CT scanner
Ultrasounds
Bone density scans
Mammography
MRI – magnetic resonance imaging
Over 50,000 examinations per year
Ambulatory care
New ambulatory care building
31 medical specialists
Incentives to join HGH
HGH provides physicians with a rural practice in Ontario, in a bilingual setting, less than one hour from both Ottawa and Montreal.
HGH offers a stimulating environment and attractive incentives to physicians interested in joining our team.
Competitive remuneration
Relocation assistance
Practice serving diverse populations in a collaborative model of care between physicians
Administrative support
Teaching site affiliated with the University of Ottawa and teaching opportunities
Partnerships with La Cité Community College
Interested in learning more about Hawkesbury and District General Hospital and the region? We provide tours of the hospital and the surrounding area and meetings with medical directors for physicians interested in joining our team.
Would you be interested in establishing a full-time practice in our community or working full-time at HGH? The Ontario Ministry of Health and Long Term Care offers financial incentives through the HealthForceOntario Northern and Rural Recruitment and Retention (NRRR) Initiative.
Requirements to practice at HGH
To obtain privileges to practice at HGH, physicians must:
Vacant positions
We are currently recruiting :
Anesthesia providers
Dermatologist
Emergency physicians (R3)
Gynecologist
Hospitalists (Rehab and In-Patient)
Intensivist (ICU Level 2)
Neurologist
Ophthalmologist
Otorhinolaryngologist
Psychiatrists
Contact the Recruitment Office and Academic Affairs
For more information about vacant positions and physician recruitment, please contact Chanel Romagna at the Recruitment Office and Academic Affairs at 613-632-1111, extension 31001 or email physicianrecruitment@hgh.ca.