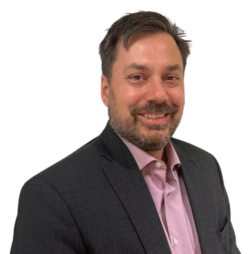 Frédéric Beauchemin
Chief Executive Officer (CEO)
PT, MBA
Quality services, satisfied patients, proud employees and an organization recognized as an exemplary partner. These simple words summarize the mission entrusted to the HGH Chief Executive Officer.
After the redevelopment project, HGH is now entering a new phase in which the organization will focus on two components: internal operations as well as employees and patient services. To that end, HGH will follow the major directions of its 2020-24 strategic plan while remaining open to new approaches to care and new provincial guidelines.
Since my arrival at HGH, I have been pleasantly surprised by the passion, resilience, enthusiasm and most importantly, the pride our people demonstrate for their workplace and their hospital. I can already see that the pillars are solid and need to continue to be developed. Innovation is ingrained in the DNA of our employees, physicians and the institution. My goal is to work as a team and build on our strengths to seize opportunities and maximize the potential of our institution.
When joining HGH in September 2022, Frédéric already had close to 25 years of experience in the health care network. He previously held various clinical and administrative roles in hospitals as well as in the private and home care sectors. He also played leadership roles at the regional and provincial levels in addition to serving on various committees and boards. Frédéric holds a Bachelor of Physical Therapy and a Master of Business Administration from the University of Ottawa.
Dr. Paul E. Beaulé
Chief of Staff
MD, FRCSC
Dr. Paul E. Beaulé joined HGH medical team in 2018 and was appointed Chief of Staff in January 2023. He has been practising medicine for more than 20 years and was instrumental in the development of the HGH Orthopedics Program.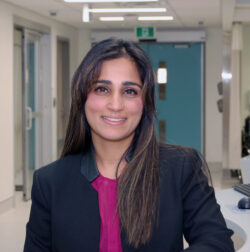 Imrana Jeoffrey
Chief Performance and Quality Officer and Vice-President, Corporate Services and Business Development
MHA, CHE
Imran Jeoffrey is responsible for Quality and Patient Safety, Ambulatory Clinics, Medical Imaging Services, Pharmacy and Patient Registration. Her mandate focuses on driving operational efficiencies across the organization by leveraging the new health information system while maintaining quality and patient safety and meeting all standards of care. Accreditation readiness from one cycle to the next is also part of her portfolio.
Imrana joined HGH in September 2015 as Director of Quality and Risk Management and was appointed Vice-President in January 2017. She holds a Master's degree in Health Administration from the University of Ottawa and also completed the Certified Health Executive Program at the Canadian College of Health Leaders. In addition, she obtained a Certificate in Health Law and a Certificate in Privacy and Cybersecurity from the Osgoode Hall Law School.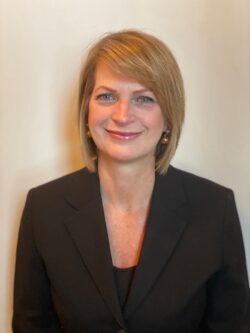 Freda Stolz
Chief Human Resources Officer
Freda Stolz joined HGH in March 2023 and brings close to 30 years of professional experience in the management of People and Culture.
Chantal McLean-Leroux
Chief Financial Officer and Vice-President, Facilities
CPA, CA
Chantal McLean-Leroux oversees key support areas that include Financial Services, Logistics and Purchasing. Her mission is to lead HGH in meeting its fiscal challenges while delivering quality patient care and building sustainability for the future.
Chantal was appointed Vice-President in November 2020 and had previously held the Director of Finance position since July 2014. She has extensive knowledge of all of our financial systems, the Ministry of Health funding formulas and the prescriptive and regulatory requirements to which the hospital is subject to in its financial management. Chantal completed her education at the University of Ottawa and obtained her Chartered Accountant designation in 1990 from the Université du Québec in Hull.
Ginette Ferguson
Chief Nursing Executive and Vice-President, Clinical Programs
RN, BScN, EMBA
Ginette Ferguson oversees clinical sectors including Inpatients Services, Critical Care and Emergency, Perioperative Services, Family Birthing Centre, Professional Practice, and Mental Health and Addictions.
Ginette Ferguson joined the HGH team in March 2021. She has extensive experience in clinical program management and previously held executive positions in senior management and also served as Chief Nursing Executive in another hospital. Ginette is a Registered Nurse and Nurse Practitioner by training and also holds an Executive Master of Business Administration.