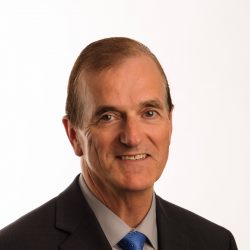 Marc LeBoutillier
Chief Executive Officer (CEO)
MHA, CHE
Our hospital has experienced significant evolution over the past few years. As we approach 2020, we now have in place solid foundations for the future of our Hospital:

A modern infrastructure with leading-edge medical equipment;
A full scope of secondary level medical programs and health services;
A new Regional Mental Health and Addiction Centre located in a modern purpose-built facility;
A new advanced Electronic Health Record System;
A successful academic affiliation designating HGH as a medical teaching site of the Faculty of Medicine of the University of Ottawa;
A team of highly-skilled and dedicated people including 140 physicians, 800 employees and 120 volunteers;

And to top all this, in early 2019, HGH has received Canada's top Hospital Accreditation Status: 'Accredited with Exemplary Standing'. This achievement itself exemplifies the quality of care delivered at HGH and our steadfast commitment to meet the evolving healthcare needs of our community.

And yet, as we contemplate these notable achievements, we also realize how complex and challenging the healthcare environment is becoming: population needs are increasing; funding levels are constrained; major system reforms are being rolled out.

As the provincial healthcare system shifts, HGH is at a crossroads. Over the next four years, our journey of excellence will continue on a different path. We are committed to:

Consolidate our programs and services and ensure their sustainability;
Reach even higher to achieve consistent levels of quality, performance and customer satisfaction in all program and services;
Invest in the education of our professionals and staff to ensure integration of best practices;
Continue to engage patients and families in all phases of care to deliver a positive patient experience and optimal outcomes;
Collaborate and better integrate our operations with health system partners to ensure a seamless continuum of care in our region.

I trust that in the end all of these efforts will bring our community to view, adopt and promote HGH as their community hospital: A modern, bilingual, full-service regional hospital serving all Prescott-Russell.

This is the road to 2024. It is my pleasure to introduce the Leadership Team that will guide HGH to this new destination.
Dr. Julie Maranda
Chief of Staff and Interim Vice-President of Clinical Programs
MDCM, CCFP, FCFP, MHSc.
The Chief of Staff is responsible for the organization of medical staff. As Chair of the Medical Advisory Committee, she also oversees the work of statutory committees such as Pharmacy and Therapeutics; Transfusion Medicine; Infection Control and Credentials Committee, in addition to supervising departmental chiefs. The role of Interim VP of Clinical Programs provides an opportunity to build bridges between the medical and nursing professions while aiming at better outcomes for the patient. In her dual roles, Dr. Maranda ensures that all patients receive high-quality care in accordance with hospital policies and best practices.
Dr. Maranda will be focusing on the Patient Access Initiative as the provincial health system is transforming and HGH is moving to its 2024 Vision. Globally, this initiative aims at improving access to care for patients and the scope of specialized services offered in Prescott-Russell. The planned improvements will target wait times at the Emergency; bed management through timely access to inpatient units and seamless transitions home or into the community, and finally, patient flow in ambulatory care. The Patient Access Initiative will lead to having the right patient, in the right bed at the right time.
Through interdisciplinary teamwork, dedication and innovation, we succeeded in building the new HGH. The benefits of our enhanced tools and systems that allow us to better communicate with our colleagues, referring physicians, community partners and patients are just the start on our way to an integrated regional system. The end result will be better patient experience and outcomes. I am excited to lead our compassionate and motivated group of physicians and healthcare professionals as we move forward to 2024.
Dr. Maranda joined HGH in January 2005 and became Chief of Staff in May 2013. She holds a Bachelor of Science, and a Doctor of Medicine and Master of Surgery from McGill University. She completed her residency at Mount Sinai Hospital in Toronto and a Master of Health Science at the University of Toronto. She also completed the Champlain LHIN Senior Leadership Program.
Marcel Leclair
Vice-President, Finance and Corporate Services
MBA, CPA, CMA
The Vice-President of Finance and Corporate Services oversees key support areas that include Financial Services, Information Technology, Material Management and Physical Plant. His mission is to lead HGH in meeting its fiscal challenges while delivering quality patient care and building sustainability for the future.
Marcel's priority is to leverage the full potential of the new Health Information System (HIS) that connects the hospital's clinical services with partners of the network as well as patients. In preparation for the transformation of the provincial health system and the integration of regional services, HGH is looking ahead to the consolidation of its programs and services. Through the possibilities afforded by the new HIS, the hospital will have the capacity to effectively meet these challenges.
Our new Health Information System is a powerful tool and a reliable source of data that enables informed decision-making. It allows us to produce operational efficiencies while ensuring the integration of best practices. In addition, being linked to our partners improves the continuum of care and the patient experience. And this is only the beginning as the system will evolve with our organizational needs of those of our patients.
Marcel joined HGH Leadership Team in September 2014. He holds a Master of Business Administration from Western University in London, Ontario and the accountant designations CPA and CMA.
Imrana Jeoffrey
Vice-President, Ambulatory Care, Quality and Performance
MHA, CHE
The Vice-President of Ambulatory Care, Quality and Performance is responsible for Quality and Patient Safety, Ambulatory Clinics, Medical Imaging Services, Pharmacy and Patient Registration. Her mandate focuses on driving operational efficiencies across the organization by leveraging the new health information system while maintaining quality and patient safety and meeting all standards of care. Accreditation readiness from one cycle to the next is also part of her portfolio.
Imrana's priority is to align the organization with the Ontario Health Teams model that aim to provide seamless, fully coordinated care for patients in a geographic region. To this end, along with community partners and patients and families, she will develop a plan to achieve the quadruple aim: improved patient experience, better outcomes, improved clinical experience and better value. Imrana also oversees the planning, operational readiness and growth strategies of various programs, including Nuclear Medicine, MRI, Respiratory Therapy and Orthopedics.
As the transformation of the health care system is taking shape, patient-centred care remains at the forefront of our initiatives. Working closely with our community partners and engaging patients and families in every phase of care can only lead to improved patient safety, better patient experience and better outcomes. HGH has been on a continuous improvement path for several years and we are very proud to have received again in 2019 the highest level of accreditation for a hospital: Accredited with Exemplary Standing. We intend to build on this momentum for the next accreditation cycle in 2022.
Imrana joined HGH in September 2015 as Director of Quality and Risk Management and was appointed Vice-President in January 2017. She holds a Master's degree in Health Administration from the University of Ottawa and also completed the Certified Health Executive Program at the Canadian College of Health Leaders.
Gisèle Larocque
Vice-President, Human Resources and Community Relations
BCom
The Human Resources and Community Relations Division is accountable for Human Resources, Corporate Projects, Communications and Public Affairs. This includes providing oversight for all activities related to talent management and succession planning; organizational development; onboarding and training; labour relations; employee health, safety and wellness; as well as communications, marketing and community engagement.
Gisèle's priority during this period of transformation of the provincial health system is to mobilize the entire organization to improve access to care for all community members in Prescott-Russell and to improve linkages with referring physicians and community health partners. To this end, she will create a people plan that aligns HR policies and processes with the integration of best practices to ensure staff are supported to meet the health needs of the community.
As we become a leader and partner in regional integration of health services, HGH employees are fully engaged and at the centre of every strategy. We know that our dedicated employees, physicians and volunteers can leverage our strengths, resources and strategies towards the advancement of quality patient-centered care for our community.
Gisèle joined HGH in May 2014 and was appointed Vice-President in November 2017. She holds an Honours Bachelor of Commerce (Marketing) from the University of Ottawa.
Dr. Suzanne Filion
Vice-President, Development and Integration
PhD, C. Psych.
The Vice-President of Development and Integration is responsible for the building and maintenance of strategic relationships with healthcare system partners at the regional, provincial and national levels. Her primary mission is to identify development and growth opportunities for HGH's clinical programs and services. She also assumes representation and liaison functions with community organizations and government authorities.
Dr. Suzanne Filion plays an active role in the planning of the regional integration of health services and the transformation of the provincial health system. Known for her community engagement and innovative ideas, she was appointed to the Premier's Council on Improving Healthcare and Ending Hallway Medicine. This committee provides advice to the Premier and the Minister of Health to ensure that the system better meets the needs of patients, families, communities and providers. She also serves on the Quality Standards Advisory Committee, the Provincial Structured Psychotherapy Leadership Table and the Health Professional Advisory Council, among others.
Maintaining close ties with our local and regional partners, and key stakeholders at various levels of government is paramount. Teamwork and a collaborative approach that includes patients and families is the only way to move in the right direction in order to offer a full range of quality health services throughout Prescott-Russell.
Dr. Filion was a psychologist at HGH from 2004 to 2007, then led the Mental Health and Addictions Department until 2014. She then served as Director of Strategic Development and was appointed Vice-President in 2018. She holds a PhD in Psychology from the Université de Montréal and a Master of Education from the University of Ottawa. She also obtained a Mental Health Law certificate from the Osgoode Hall Law School at York University and completed the Regional Health Senior Leadership Program at the University of Ottawa Telfer School of Management. In 2018, she received the Canadian Psychological Association Award for Distinguished Contributions to Public or Community Service.