Main Campus
Hawkesbury and District General Hospital (HGH)
1111 Ghislain Street
Hawkesbury, ON K6A 3G5
613-632-1111
To book an appointment: 613-632-1111, option 1
Comments and suggestions:  613-632-1111, extension 51702 or view our Comments page.
To find the contact information for specific clinics and services, visit Programs and services.
Hospital Hours and Visiting Hours
Wearing a mask is still mandatory in the hospital. Masks are available at entrances.
The Emergency Department is open 24 hours a day, 7 days a week.
Ambulatory Clinics are usually open Monday to Friday and closed on public holidays.
For the business hours of individual clinics, visit the Contact Us section in Programs and services.
For visiting hours, check the Patients and Family section and the Family Birthing Centre.
---
Road Map
---
Hospital Plan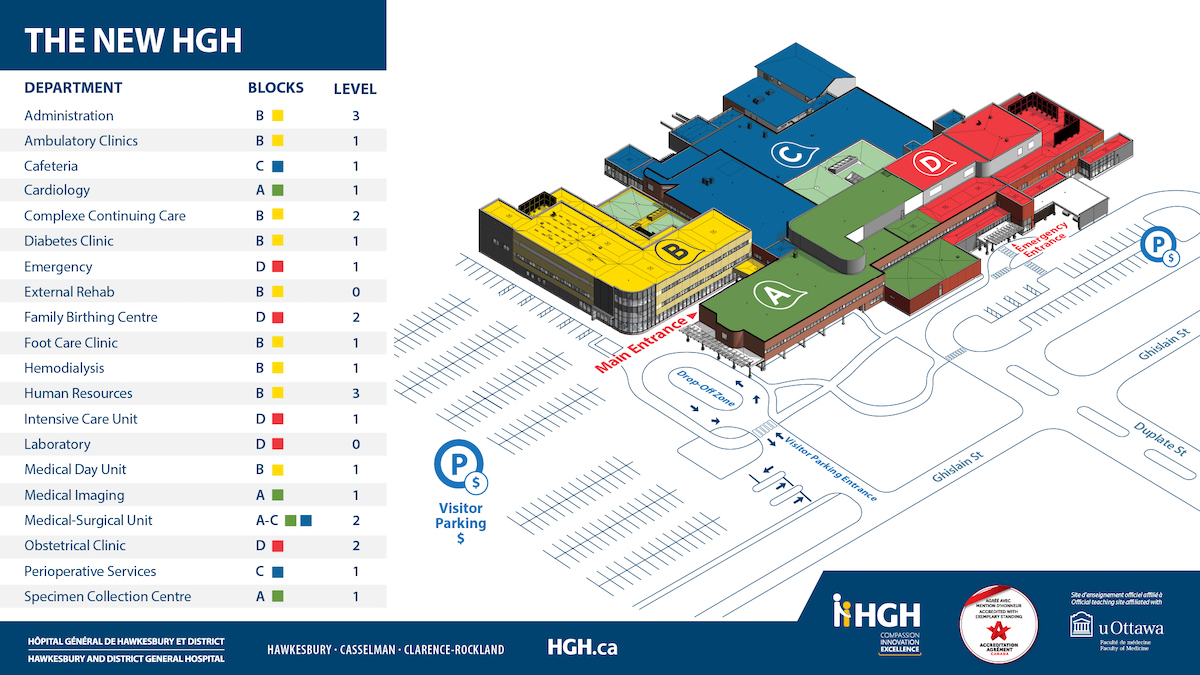 ---
Satellite Centres
Casselman Satellite Centre
710 Principale Street
Casselman, ON K0A 1M0
Telephone: 613-764-5464
---
Clarence-Rockland Satellite Centre
1905 Laurier Street
Rockland, ON 4K4 0C6
Telephone: 613-446-6776
---
Mental Health and Addiction Regional Centre
580 Spence Avenue
Hawkesbury, ON  K6A 0B4
Telephone: 1-844-304-1414
---
Public Holidays
Some offices and clinics are closed on public holidays. When public holidays fall on a Saturday or Sunday, the following Monday is observed as a holiday.
2023
New Year's Day – Sunday, January 1
Day after New Year's Day – January 2
Family Day – Monday, February 20
Good Friday – Friday, April 7
Victoria Day – Monday, May 22
Canada Day – Saturday, July 1
Civic Holiday – Monday, August 6
Labour Day – Monday, September 4
Thanksgiving Day – Monday, October 9
Remembrance Day – Saturday, November 11
Christmas Day – Monday, December 25
Boxing Day – Tuesday, December 26