Media Release
HGH celebrates the completion of its redevelopment project with an official opening ceremony
HAWKESBURY — On April 21, the Hawkesbury and District General Hospital (HGH) marked the completion of its major redevelopment project with a ribbon-cutting ceremony held in hybrid mode due to the pandemic. Many dignitaries attended the event, including the Honourable Caroline Mulroney, Minister of Francophone Affairs and Minister of Transportation.
Launched in 2014, the HGH major redevelopment project has transformed the local community hospital into a full-service regional hospital. The population of Prescott-Russell and surrounding areas now enjoys improved access to health care thanks to a $200 million investment in infrastructure, equipment and cutting-edge technology. The community also participated in making the project a reality through the HGH Foundation's fundraising efforts.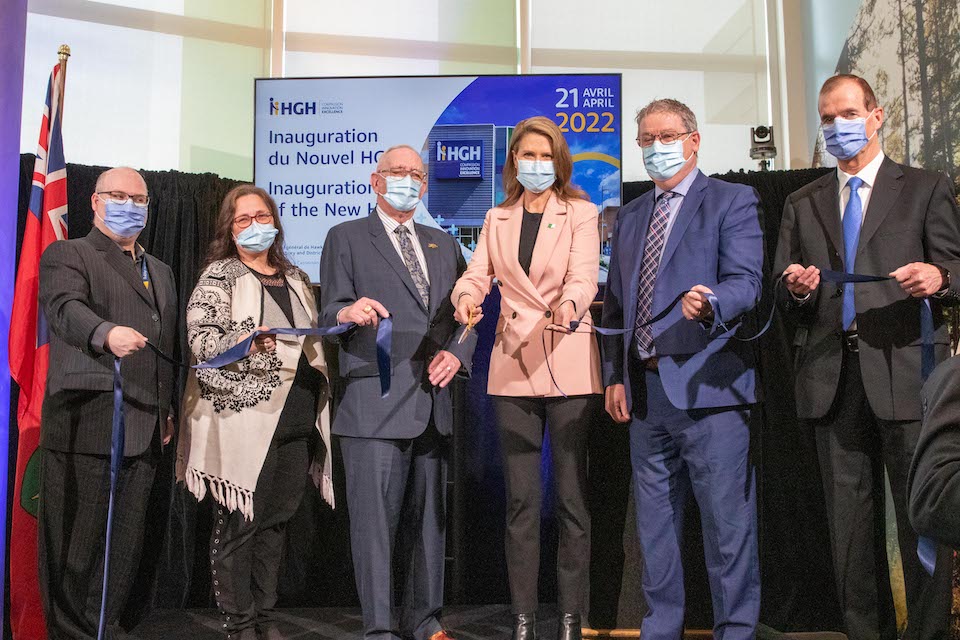 Although all areas of care were affected by renovations or construction, the hospital remained fully functional during the construction period. The number of beds increased from 69 to 100 and several specialized services such as MRI, orthopedics and ophthalmology were added. Ultimately, the hospital more than doubled in size, as did the number of employees and physicians. For many patients in the region, better access to health care close to home means better health and a better quality of life.
Key Facts
The investment in infrastructure, medical equipment and state-of-the-art health information technology amounts to $200 million.
The hospital has doubled its size by adding 165,000 sq. ft. of new spaces. The existing infrastructure was completely refurbished.
The number of physicians has increased from 60 to 160 and the number of employees from 300 to 750.
The Emergency Department is three times larger than before and includes a new trauma unit and a level 2 intensive care unit. The Emergency Department is designed to accommodate 70,000 visits per year.
Ambulatory care clinics are housed in a new three-story building designed to accommodate 70,000 visits per year. Ambulatory care includes 40 different medical specialty clinics, rehabilitation services for adults and children, hemodialysis, medical day unit and cardiology services.
Perioperative Services occupy a new building and include three operating rooms, two endoscopy units and the medical device reprocessing unit. State-of-the-art surgical equipment allows for innovative orthopedic procedures such as hip and knee replacement in day surgery and ophthalmic surgery.
The Medical Imaging Department is now equipped with state-of-the-art equipment, including a magnetic resonance imaging (MRI) machine and a new CT scanner. The building has been designed and space reserved for future nuclear medicine.
The number of beds has increased from 69 to 100. The new beds are in acute care, intensive care and the family birth centre. A new 16-bed transition unit is ready to open in 2022.
A new health information system integrated with The Ottawa Hospital and local family health teams provides access to patients' electronic medical record in a paperless environment.
Video
Quotes
"Our government recognizes the importance for Francophones to have access to quality French-language health services. By strengthening the well-being of our communities, they can actively contribute to Ontario's economic, social and cultural prosperity. We are proud to be associated with this project which will improve the quality of life of Francophones in the region."
—The Honourable Caroline Mulroney
Minister of Francophone Affairs
"A full-service regional hospital is a great step forward for our region. We can be very proud of the scope and excellence of the health care programs and services offered to our fellow citizens, close to home. This project has allowed us to dream big, and we continue to look to the future and imagine further improvements."
—Daniel Gatien
Chair, HGH Board of Directors
"The County Council is proud to have strongly supported this project from the beginning. A new hospital is of great importance to our community and has a direct impact on the quality of life of our residents. Bravo!"
—Daniel Lafleur
Warden, United Counties of Prescott and Russell
"We sincerely thank the thousands of donors who contributed to our fundraising campaigns. Thanks to their generosity, we now have a modern hospital with state-of-the-art equipment and technology. We salute the engagement of our community towards improving access to health care."
—Nathalie Ladouceur
Chair, HGH Foundation Board of Directors
Additional resources
Link to HGH website: HGH Redevelopement Project 
Link to a video Celebrating the end of HGH Redevelopment Project