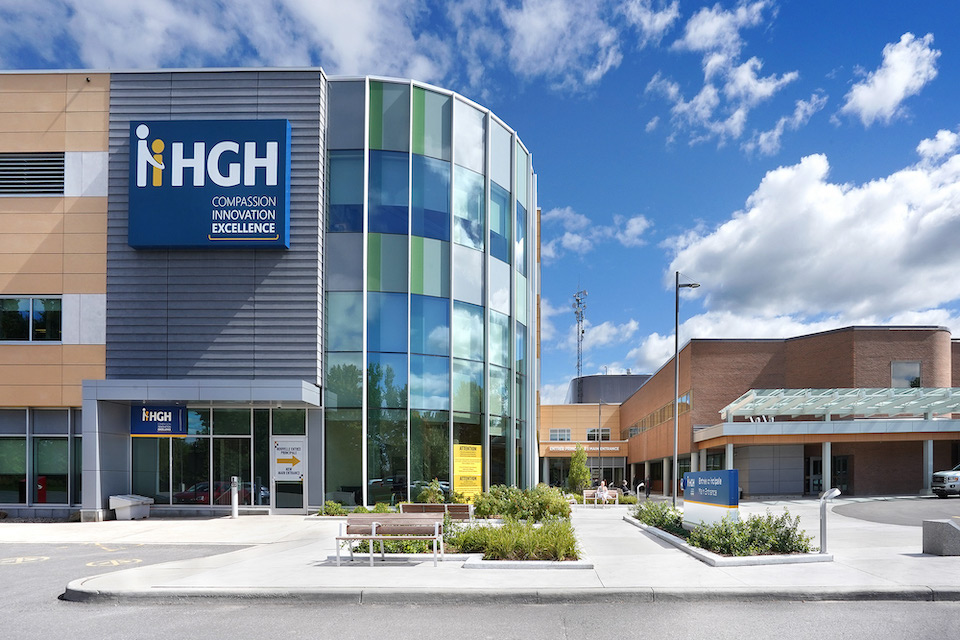 From a local community hospital to a full-service regional hospital
The Hawkesbury and District General Hospital (HGH) Redevelopment Project is complete!
Your local community hospital transformed into a full-service regional hospital thanks to a $200 million investment in infrastructure, medical equipment and cutting-edge technology.
What does the redevelopment project completion mean for patients? It means more specialty medical care closer to home in larger and more comfortable facilities.
The construction and renovation of buildings spanned from 2015 to 2022 and resulted in the addition of 165,000 sq. ft. of new spaces. Check out the section below to see what your new hospital has to offer.
Main components of the redevelopment project

Emergency Department and Critical Care Unit
Three times more space – 18,700 sq. ft. in new facilities
Regular Emergency: 8 rooms and a new trauma unit
Ambulatory Emergency Services (EDAS): 10 rooms
Level 2 Intensive Care Unit
Designed to handle 70,000 visits per year
Fully operational since September 2019
Visit the page Emergency Department
Ambulatory Care
Consolidation of all outpatient specialty clinics in a new three-storey 72,000 sq. ft. building opened in January 2018
Designed to handle 70,000 visits/year
Over 40 clinics with medical/surgical specialists and over 40,000 visits per year
Rehab services for outpatients
Hemodialysis
Medical Day Care Unit
Outpatient Cardiology Department (diagnostics and consultations) opened in 2020
For information on ambulatory care clinics, visit the page Programs and Services
Family Birthing Centre
Relocation into a new 11,000 sq.ft. section
Five appointed rooms equipped for labour, delivery, and postpartum
Three regular patient rooms
Opened in May 2017
Visit the page Family Birthing Centre
Perioperative Services
New 8,600 sq. ft. building erected in the former courtyard opened in 2016
Three new state-of-the-art operating rooms: 2 opened in 2016, and the third in 2020
New orthopedic surgery program launched in 2020 with innovative hip replacement using the anterior approach performed in day surgery
New ophthalmologic surgery program launched in 2021 using cutting-edge technology and equipment
Design improves patient flow and safety
Reduced wait times and improved access to different types of surgical specialties
Fully automated Medical Device Reprocessing Department and Central Sterile Room
Endoscopy suite with two specialized procedure rooms (completed in April 2022)
Visit the page Perioperative Services
Number of beds
Increase in the number of beds: from 69 to 100
New beds in acute care, intensive care, and family birthing centre
New 16-bed transition unit ready to open in 2022
Medical Imaging Department
Full-service medical imaging department (10,100 sq. ft.) featuring advanced equipment and technology opened in 2020
Relocation of ultrasound, mammography and bone density to renovated premises (2019)
New CT scanner (2019) Close to 13,000 exams per year
New MRI—magnetic resonance imaging (2020). Close to 3,000 exams per year
New fluoroscopy room (2020) and X-ray equipment (2021)
Building designed and space reserved for future nuclear medicine
Visit the page Medical Imaging
Training facilities
Facilities for medical training programs part of the academic affiliation with the University of Ottawa
Facilities also used for nursing programs with community college La Cité
IT Platform for Health Informatics
Epic is a leading-edge Health Information System launched in 2019
Integrated system with The Ottawa Hospital and local family health teams
Patient electronic medical record through Epic and MyChart
Creates paperless environment