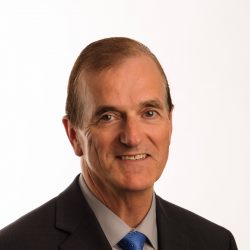 Marc LeBoutillier
Chief Executive Officer (CEO)
MHA, CHE
As I watch the extensive activity around the construction of our new and expanded hospital, I share a sense of pride and accomplishment with all staff, physicians, volunteers and donors. However, as important as the hospital redevelopment project is, it is not the end goal.

Over the coming years, we will launch new programs and services, which will transform HGH into a full-service regional hospital. We will continue with our internal project Building the New HGH, which aims to transform our organization, reach higher levels of quality and performance and make HGH a model community hospital in Ontario. We are going to refocus our efforts on patients and their families, as well as the communities of Prescott and Russell that we serve. We are going to invest in elevating professional practice and significantly improving access to services. In 2018, we will benefit from new modern infrastructure, leading-edge medical equipment and a new technology platform for a fully functional electronic medical record.

I am enthusiastic about the growing opportunities available to HGH. I am pleased to introduce the Leadership Team that will guide HGH on the path to 2020.
Dr. Julie Maranda
Chief of Staff and Interim Vice-President of Clinical Services
MDCM, CCFP, FCFP, MHSc.
The Chief of Staff is responsible for the organization of medical staff, ensuring that all patients receive high-quality care in accordance with hospital policies and best practices. As Chair of the Medical Advisory Committee, she also oversees the work of statutory committees such as Pharmacy and Therapeutics; Transfusion Medicine; Infection Control and Credentials Committee, in addition to supervising departmental chiefs.
Dr. Maranda is focusing on physician recruitment and the development of new programs and services as HGH is transforming into a full-service regional hospital. With the aim of becoming a model hospital in Ontario by 2020, her mandate also includes leading projects such as Experience 2018 and Quality-Based Procedures (QBP). Both are designed to improve the quality of care and patient experience. Through enhanced tools and systems for referring physicians and community partners, these initiatives will create seamless transitions of care for patients and their family.
As Chief of Staff, I have the responsibility and the privilege to work closely with the rest of the Leadership Team in bringing HGH into a new era. It takes interdisciplinary teamwork, dedication and innovation to build the new HGH, larger in footprint, larger in scope, and larger in expectations. I am excited to lead our compassionate and motivated group of physicians as we navigate these amazing changes. Through Experience 2018 and Vision 2020 we will become role models for what is done right in health care.
Dr. Maranda joined HGH in January 2005 and became Chief of Staff in May 2013. She holds a Bachelor of Science, and a Doctor of Medicine and Master of Surgery from McGill University. She completed her residency at Mount Sinai Hospital in Toronto and a Master of Health Science at the University of Toronto. She also completed the Champlain LHIN Senior Leadership Program.
Marcel Leclair
Vice-President, Finance and Corporate Services
MBA, CPA, CMA
The Vice-President of Finance and Corporate Services oversees key support areas that include Financial Services, Information Technology, Material Management and Physical Plant. His mission is to lead HGH in meeting its fiscal challenges while delivering quality patient care and building sustainability for the future.
Marcel's priority is the implementation of a new Hospital Information System (HIS) throughout HGH and its integration to the regional health network by 2020. The HIS includes the electronic medical record and the technological infrastructure enabling the linking of all HGH's clinical services to external partners such as family physicians, specialists in partner hospitals and long-term care facilities.
The HIS renewal is a major component of the expansion project that will bring significant changes to the work organization and propel HGH into the future. Built in partnership with The Ottawa Hospital, the University of Ottawa Heart Institute and Renfrew Victoria Hospital, the new system will facilitate the transition of patients across the continuum of care and improve the quality of services.
Marcel joined HGH Leadership Team in September 2014. He holds a Master of Business Administration from Western University in London, Ontario and accountant designations CPA and CMA.
Imrana Jeoffrey
Vice-President, Ambulatory Care, Quality and Performance
MHA, CHE
The Vice-President of Ambulatory Care, Quality and Performance is responsible for Quality and Patient Safety, Ambulatory Clinics, Diagnostic Imaging Services and Patient Registration. Her mandate includes the reorganization of the Quality Management Program with a focus on accreditation readiness for 2018.
Imrana will oversee the planning, operational readiness and growth strategies of new ambulatory programs such as MRI, Nuclear Medicine and Orthopedics. With the expansion of programs and services and the expected increase in volumes in the ambulatory sector brought by the new HGH, her priority will be to keep improving quality while meeting all standards of care.
As we become a full-service regional hospital, we are transforming the delivery of care in the region. We also aim to become a model hospital in Ontario by 2020. To that end, we intend to maintain our Accredited with Exemplary Standing awarded to organizations that go beyond the requirements of Accreditation Canada and demonstrate excellence in quality and patient safety. It is the highest level of accreditation for a hospital.
Imrana joined HGH in September 2015 as Director of Quality and Risk Management and was appointed Vice-President in January 2017. She holds a Master's degree in Health Administration from the University of Ottawa.
Gisèle Larocque
Vice-President, Human Resources and Community Relations
BCom
The Human Resources and Community Relations Division is the result of a new organizational structure that includes Human Resources, Corporate Projects, Communications and Public Affairs. The priority is to mobilize all people and teams within the organization to become a model hospital in Ontario by 2020.
Gisèle provides oversight for all activities related to talent management, organizational development, training, succession planning, labour relations and employee health, safety and wellness. The Human Resources team's goal is to create a people plan and align human resources policies, practices and processes with the overall vision, mission and values to ensure staff are supported to meet the health needs of the community.
Gisèle is also responsible for communications, marketing and supporting community engagement activities. The Community Relations team's goals are to communicate the expansion of HGH programs and services and assist in improving access to care by the referring physicians and the residents of Prescott-Russell.
Building the New HGH is a significant organizational transformation project that aims to improve services to effectively meet the needs and expectations of the community. To reach this goal, staff must be fully engaged and at the centre of every strategy in order to make the most of each action and each encounter with the patient and their family.
Gisèle joined HGH in May 2014 and was appointed Vice-President in November 2017. She holds an Honours Bachelor of Commerce (Marketing) from the University of Ottawa.