The Hawkesbury and District General Hospital (HGH) is growing to serve you better! Through a major redevelopment project, your community hospital is transforming into a full service regional hospital.
What does the redevelopment project mean for patients? It means more specialty medical care closer to home, larger and more comfortable facilities and state-of-the-art medical equipment.
Are you visiting someone or do you have an appointment at HGH? Please check the notices in the construction updates section below. In the course of construction, there will changes to parking, entrances and location of departments.
---
Construction updates
Plan of the New HGH as of January 15, 2018
Opening of New Building – Block B
Opening of a new three-storey building on January 15, 2018.
Block B houses Ambulatory Clinics, the Complex Continuing Care Unit and administrative offices.
Opening dates of departments in their new premises:

Medical Day Unit – January 15
Ambulatory Clinics – January 22
Telemedicine – January 29
Cardiology – January 29
Specimen Collection Centre – January 29
Hemodialysis – January 29
Outpatient Rehab – February 5
Complex Continuing Care (inpatients unit) –February 15
Emergency and Intensive Care Unit – late Winter
Temporary New Main Entrance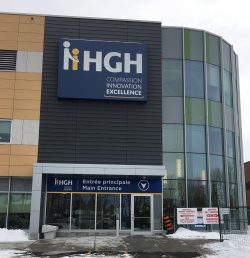 Opening on January 22, 2018
Located at the west end of the newly opened Block B.
Open daily from 6:30 am to 8:00 pm.
Please use the Emergency Entrance after 8:00 pm.
Visitors Parking
Located West of the hospital.
The number of parking spaces is back to normal and paving is complete.
The location of the entrance to the visitors parking lot will change in February 2018. We are also changing the gates and pay stations. Please follow signage.
Parking fee will go from $4.00 to $5.00 per visit.
Please follow signage to the new Main Entrance.
---
Main Components of the Redevelopment Project
New Ambulatory Clinics Pavilion
Consolidation of all specialty clinics in a three-storey 72,000 sq. ft. building
Rehab services for outpatients
Hemodialysis
Cardiology
Medical Day Care Unit
Opened in January 2018
New Family Birthing Centre
Relocation into a new 11,000 sq.ft. section
The centre features 5 LDRP rooms (labor, delivery, recovery, postpartum) and 3 regular patient rooms
The new Family Birthing Centre opened in May 2017
New Perioperative Services
New 8,600 sq. ft. building erected in the former courtyard

Two new state-of-the-art operating rooms feature larger and much brighter spaces designed to improve patient flow and safety

Perioperative services include the surgical unit, day surgery and endoscopy unit

Reduced wait times and improved access to different types of surgeries
The new Perioperative Services opened in September 2016
Expansion of the Emergency Department
3 times more space, a new trauma unit and ambulatory emergency services
Increased number of beds
100 beds in total, up from 69 prior to the redevelopment project
New beds in acute care, intensive care and psychiatry
 Full service Diagnostic Imaging Department
New CT scanner
New MRI service (magnetic resonance imaging)
New facilities for training and medical teaching
Facilities for medical training programs with Ottawa University and nursing programs with community college La Cité
State-of-the-art computer system
Patient electronic medical record
Integrated system with The Ottawa Hospital and healthcare partners
---
HGH Info Project Newsletter
Since February 2014, HGH has been publishing a newsletter to keep neighbours, staff and stakeholders informed of the project evolution. The Info Project is published within the HGH Dialogue since November 2015. To download or view a copy, consult the News section.
---
Contact us
Project Management Office
Hawkesbury and District General Hospital
1111 Ghislain Street
Hawkesbury, ON K6A 3G5
Telephone: 613-632-1111 extension 21410
Email: redevelopmentproject@hgh.ca