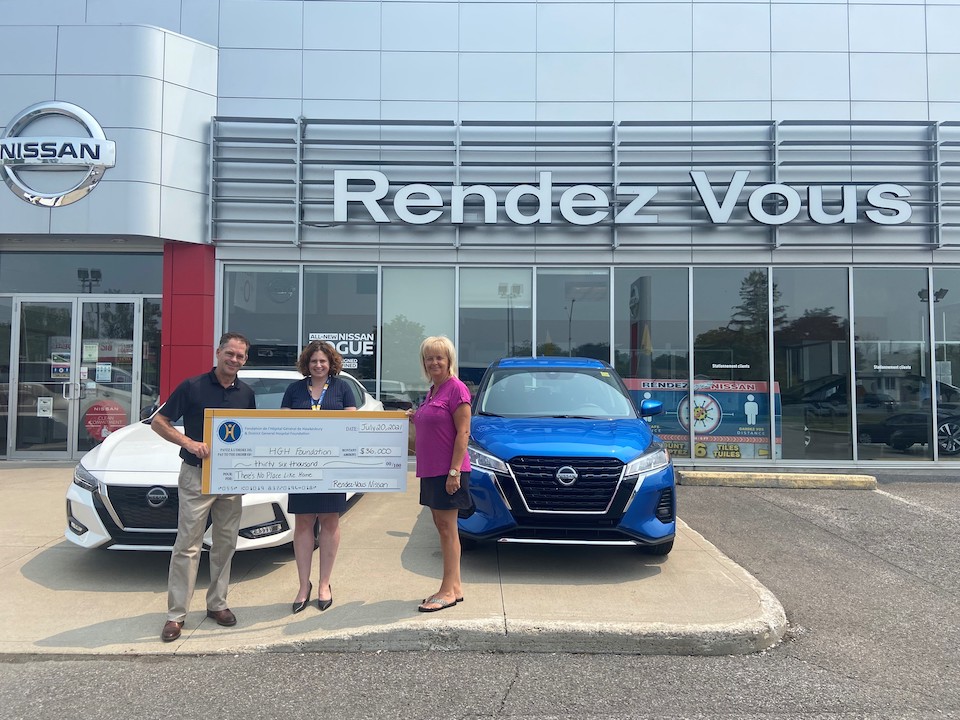 Rendez-Vous Nissan and the Kego Family Donate $36,000 to the HGH Foundation
It is with incredible appreciation for the care provided to his partner, his staff and his customers that Mr. Doug Kego, Owner & President of Rendez-Vous Nissan in Hawkesbury, recently confirmed a gift of $36,000 to the Hawkesbury and District General Hospital (HGH) Foundation.
"My partner, Diane, was diagnosed with colon cancer last year and was able to receive all of her treatments in Hawkesbury. We were so relieved not to have to travel to Ottawa and were both absolutely blown away by the wonderful care she received at HGH," says Mr. Kego. "I am proud to make this contribution to the HGH Foundation on behalf of Rendez-Vous Nissan and the Kego Family.  For us, our staff is like family, and I will do anything I can to ensure they and our customers are able to receive the health care they need at HGH," he adds.
This generous donation will be attributed directly to the HGH Foundation's new campaign, There's No Place Like Home.
"This is truly a wonderful gift for our hospital," says Erin Tabakman, Executive Director of the HGH Foundation. "We are so grateful to the Kego Family and Rendez-Vous Nissan for their commitment to supporting the purchase of medical equipment required to bring much-needed services to HGH."
Rendez-Vous Nissan is also currently offering a free oil change and vehicle inspection to all health care workers to say thank you for their courage and resolve during these difficult times. For more information, visit Rendez-Vous Nissan.
Photo of the cheque presentation (from left to right): Doug Kego, Erin Tabakman and Diane Pouliot