Welcome to the 39th edition of the HGH Foundation Golf Classic Tournament!
2019 HGH Foundation Golf Classic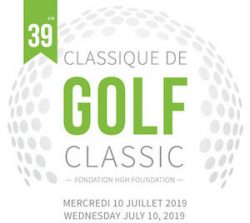 Join us on July 10th for a memorable day and help support a great cause! The tournament is open to all ages and levels of players.
Experience an extraordinary course
3 x $1,000 cash prizes to be won!
Door prizes given out during the banquet dinner
Framed photo of each foursome
Event details
Date: Wednesday, July 10, 2019
Location: Hawkesbury Golf and Curling Club
1150 Golf Club Road, Hawkesbury, ON
Registration Fee: $150 per golfer, including covered golf cart and dinner
Registration from 9:00 am to 10:15 am
Shotgun start at 10:30 am sharp!
Registration and payment
To register and make payment, drop by our office or purchase on-line.
Information
Natacha Wathier Jean-Louis
613-632-1111, extension 21101
nwjeanlouis@hgh.ca
On behalf of the HGH Foundation, we thank you for your generosity and sincerely hope you will join us for a fantastic day of golf!
HGH Foundation hosts several fundraising events throughout the year. For more information, please visit Events.