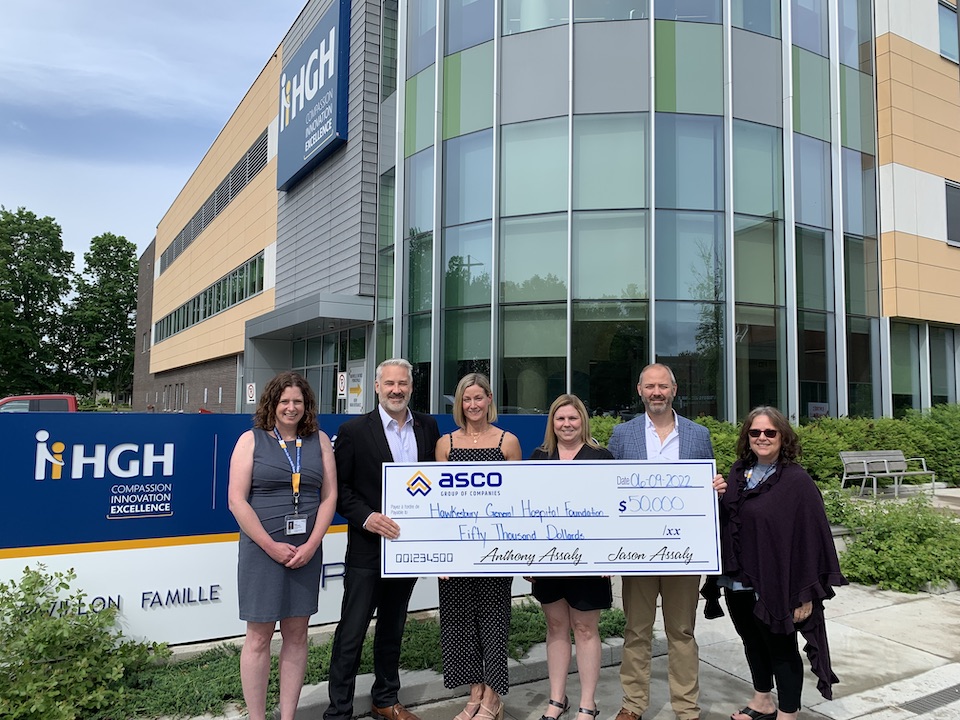 A generous donation
The ASCO Group of Companies has made a donation of $50,000 to the Hawkesbury and District General Hospital (HGH) Foundation. This amazing gift will be attributed directly to the HGH Foundation's current fundraising campaign, There's No Place Like Home. The cheque was presented to the HGH Foundation on June 9, 2022.
When Erin from the HGH Foundation called and asked if ASCO would consider donating to the There's No Place Like Home fundraising campaign, without hesitation, Jason and I agreed to be part of this great cause. Our father, Wayne, was instrumental in leading the original fundraising effort for the construction of the new hospital. It is important for us to build on his legacy and to continue to support our regional hospital. At the ASCO Group of Companies, social responsibility and community engagement are part of our core values. We believe that we have a role in making our communities a better place to work, live, and play. The Hawkesbury and surrounding communities have been, and continue to be, very supportive of our businesses – for which we are extremely grateful. We believe that paying it forward can make a difference in the community that Jason, our families, and I, are proud to call "home.  – Anthony Assaly, President, ASCO Group of Companies
The ASCO Group of Companies and the Assaly Family have been incredibly generous, long-time supporters of the HGH Foundation. We are so fortunate to have the support of what is now a second generation of donors, who value access to health care services for not only their family, but also the employees and clients who support them. I would like to thank Anthony and Jason for this wonderful gift for our hospital, and their father Wayne, for his integral and continual support.  – Erin Tabakman, Executive Director, HGH Foundation
The HGH Foundation's campaign, There's No Place Like Home, is an initiative to help provide the highest priority medical equipment so that HGH can add and expand programs and services in key areas such as Ophthalmology, Advanced Mammography, Cardiology, Urology and Endoscopy. For more information, visit There's No Place Like Home.