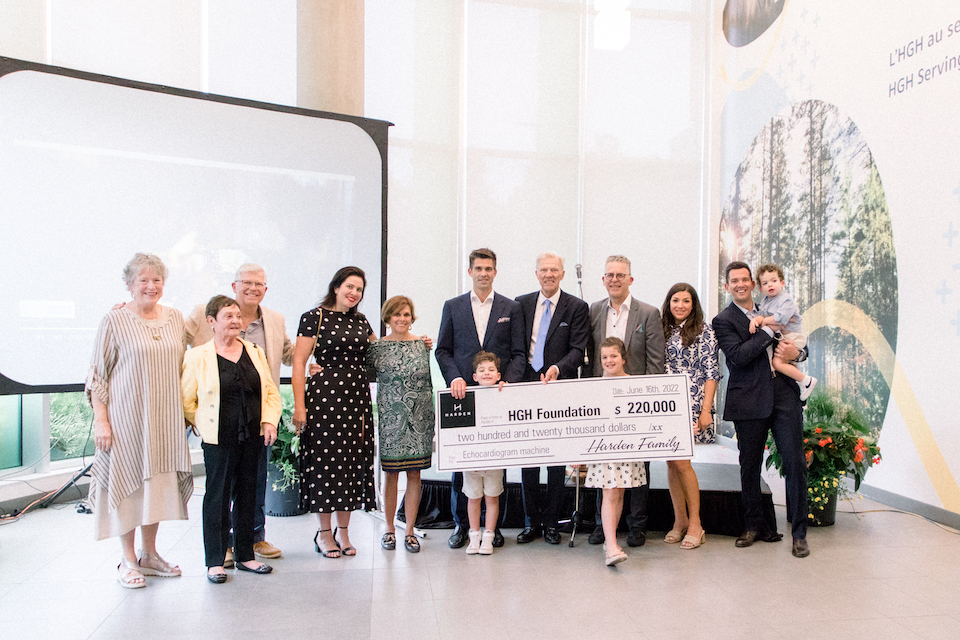 Another generous donation from the Harden Family
The Harden Family have continued their support of the Hawkesbury and District General Hospital (HGH) Foundation with an incredible donation of $220,000 towards the fundraising campaign There's No Place Like Home.
On June 16, 2022, at the HGH Foundation's leadership donor event, Mr. Bill Harden announced the gift on behalf of he and his family, which will enable the purchase of a third echocardiogram machine for HGH. The cheque was presented by the Harden family in the photo.
My family and I have received exceptional care at HGH over the years. It was without hesitation that more than a decade ago, we chose to make a significant contribution to the hospital's major redevelopment project. The transformation of our new regional hospital is now complete. We are delighted to make this gift to the HGH Foundation to ensure HGH has the important cardiac diagnostic tools it needs to meet the high demand for care of the people we all know and care about.

-Bill Harden
Chairman, Harden
The Harden Family has been an integral part of the redevelopment of HGH. Their transformational gift of $1 million to the HGH Foundation in 2007 spoke to their confidence in our hospital and their strong belief that residents of our region deserve access to the best care within their own community. Still bearing that same strong conviction in the importance of quality healthcare, this generous gift for the purchase of HGH's much-needed third echocardiogram machine will ensure cardiac patients receive vital care more quickly and with the best tools possible.

-Erin Tabakman
Executive Director, HGH Foundation